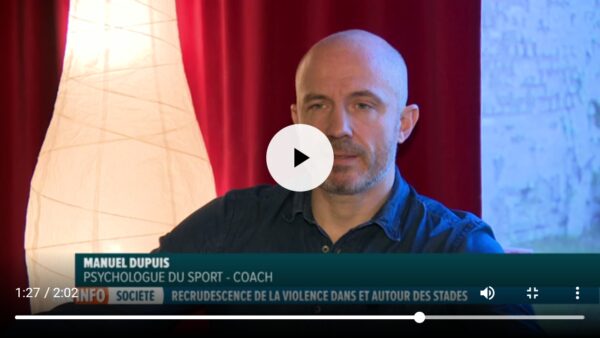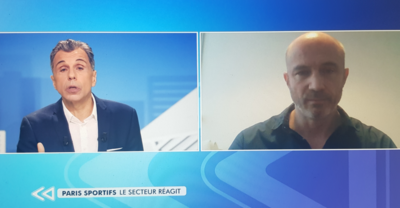 LN24 | 28/04/2023
Participation in the TV programme Free Ride on LN24 "In the head of a top athlete".
Guide social | 04/03/2022
"Manuel Dupuis, psychologue du sport: "je travaille pour le Sporting de Charleroi".
RTL TVI | 15/05/2022
Interview in the Sunday TV show on RTL "C'est pas tous les jours dimanche".
RTL TVI | 24/10/2021

Manuel Dupuis interviewed on RTL news about violence in stadiums.
DH SPORT | 04/06/2021
Manuel Dupuis, mental trainer: "Les footballeurs vont chez le psy…".
SPORT MAGAZINE LE VIF | 03/06/2021
Sport in mental health: Osaka leaves Roland-Garros.
RTBF SPORT | 13/03/2021
Manuel Dupuis interviewed on the psychological aspects of Eline Berings' false positive case at the European Athletics Championships.
JOURNAL L'AVENIR | 30/01/2021
File on stress and depression among professional players.
La Vista Football | 04/12/2020
Video on PSG and Tuchel: coach's psychology and group management.
JOURNAL L'AVENIR | 24/11/2020
Manuel Dupuis interviewed about Sporting Charleroi.
SO FOOT | 17/11/2020
Interview on Sergio Ramos' missed penalties.
CEFF TV | 14/10/2020
Intervention on the psychological aspects of the Covid measures for the Communauté des entraîneurs francophones de football.
ELEVEN SPORT | 24/09/2020
Manuel Dupuis interviewed on the impact and management of returning fans at a football match.
LA VISTA FOOTBALL | 23/09/2020
"Mental preparation in football, episode 1, with Manuel Dupuis.
PROLONGATION | 10/06/2020
Podcast on sports psychology and mental preparation in football clubs.
DH SPORT | 10/06/2020
How to manage the recovery for sportsmen and women "Six months of training is no substitute for one hour of play".
CEFF TV | 20/05/2020
Intervention Manuel Dupuis "Mental imagery to maintain technique and prepare the return to competition in football".
RTBF / AFP | 13/05/2020
Interview on the resumption of football matches in Germany.
CEFF TV | 10/04/2020
Capsule on mental imagery to maintain football technique for the Communauté des Entraîneurs Francophones de Football.
TABLE TENNIS | 27/03/2020
Activate self-confidence before a table tennis match.
LE SOIR SPORT | 29/02/2020
Interview on Sporting Anderlecht ("Anderlecht finally wants to confirm).
EMISSION ZONE TECHNIQUE | 27/01/2020
On the management of pressure by the coach and the place of the mental coach in football. With Manuel Dupuis on the set of Zone technique, a programme devoted to football.
MAGAZINE WROUM | 01/10/2019
Interview with Manuel Dupuis on the mental preparation of pilots "Meeting with the man who gets into pilots' heads".
LE SOIR SPORT | 27/08/2019
Interview Manuel Dupuis in article on Anderlecht: "The mystical belief" in Vincent Kompany.
TENUP | 19/08/2019
Interview with Ten UP in an article on time-out management in tennis on the FFTT website.
REPRISE | 07/08/2019
Interview with Manuel Dupuis on managing emotions and stress in tennis in Reprise, which produces tennis podcasts.
LE SOIR SPORT PLUS | 22/02/2019
Manuel Dupuis interviewed on the emotional management of football coaches.
DH SPORT | 30/11/2018
Manuel Dupuis, on the mental faculties of long-term high-level tennis players.
BEL RTL | 04/07/2018
Olivier Dupuis, expert in the Bel RTL newspaper: supporting a football team: the positive aspects.
LE SOIR | 22/02/2018
Expertise for an article on sport psychology in football.
RTBF LA UNE | 01/02/2018
Interview with Manuel Dupuis on exercise motivation in the Xendera application.
I COACH KIDS | 2017
Coaching Children literature review. Chapter on motivation, pp.63-69. For the Belgian Football Union (URBSFA).
MAGAZINE ZONE TECHNIQUE | 2016
Article on sacking coaches in football (p 20-21).
MED 1 | 2016
Expertise in Dossier "Foot Ego", on the personality of top footballers.
TELE MOUSTIQUE | 2016
Expertise file "Sport, a fashionable drug".
RTBF LA UNE | 2015
Mental preparation intervention in the programme "Les Héros du gazon".
.
RTL TVI | 2015
Interview with Manuel Dupuis on RTL news about bigorexia.
LE VIF L'EXPRESS | 2014
Expertise for the article on Marc Wilmots: the triumph of the average Belgian.
MAGAZINE VESTIAIRES | 2011
Managing stress before a crucial football match.
JOURNAL OF SPORT BEHAVIOUR | 2011
Brevers D., Nils, F., Dan B., & Noël, X. (2011). Sport Superstition: Mediation of Psychological Tension on Non-Professional Sportsmen's Superstitious Rituals.
LE PSYCHOLOGUE.BE | 2010
Sport psychology.
Mental preparation in sport psychology.
Use of mental imagery in high level sport.
REVUE DROGUE, SANTE, PREVENTION | 2009
Dupuis M. (2009). La dépendance à l'exercice physique.  Drogue, Santé, Prévention, no 53, pp. 19-22 et arrêt du sport et toxicomanie, pp.23-25.
DH SPORT | 2007
The place of psychology in sports performance.